Hi guys,
I finally got my hands on to reliance jio a week back. I have been using it since then and here's my detailed review on it.  For those who don't want to read through the long boring review, here's  a shorter one:
Go get it if you can, it's completely worth it. 
For all those who want to read through, here's the detailed review.
Background: I have done these tests in Koramangala, Bangalore. Airtel 4g gives here speeds upto 40Mbps at midnight, they have a really good 4g network here. I always get full network on my phone. All these tests were done on OnePlus 2 (How Jio is working on One plus 2 is  a story for a different day).
Here are results of speed test that I did at around 11pm, yes it's a bit on the slower side but I am pretty sure it's like that because their network is under too much stress. I personally know people who have consumed over 400GB on Jio network in a month.
11 PM, Saturday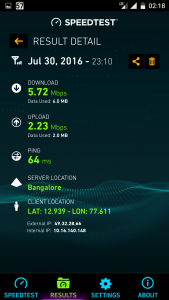 Then again I did a speed test at 2am and here are the results:
Even though the result is much better than what it was at 11pm but again expectations from 4g are more than this.
Around 10 AM, Sunday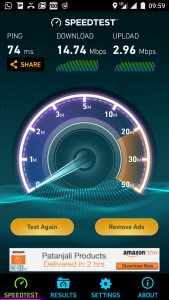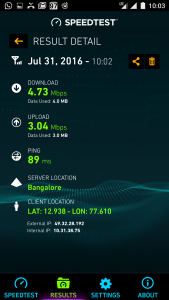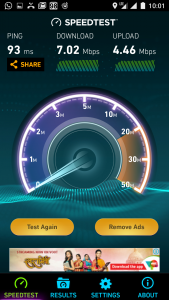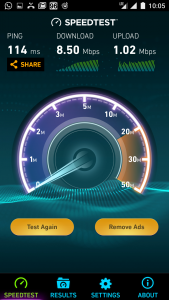 As you can see the speed is varying a lot. In a minute the speed drops from 16Mbps to 7Mbps to 4Mbps. So indeed the Jio network is under a lot of stress because the 3 month free unlimited data is being used a lot.
UPDATE: I will do speed tests in Electronic city soon.
Ok so here are the speed test results which I got in electronic city.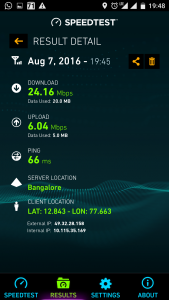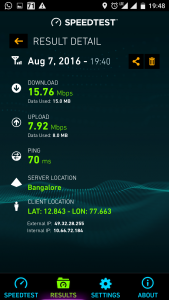 Both these tests were done in different locations. But speed is commendable. I was getting around 6Mbps download speed inside elevator (Airtel 4G doesn't even work inside elevator).
Verdict:
Reliance Jio network is much slower than what it was a month ago. A friend of mine bought LYF handset a month ago and he was getting speeds upto 50Mbps late night. Its obvious because now their network is much congested than before. Speed during peak hours are better than Airtel.
Network is reliable and seamless across Bangalore. But I strongly believe they are going to win over Airtel only if they have a good pricing strategy.
Comments
comments